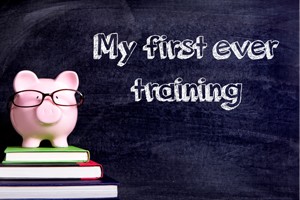 I gave my first training ever in May 2007. I remember it like it was yesterday. It was in a tent! Although the surroundings were tranquil and nature was in her full fall glory, in colours of burnt orange, olive green and golden browns, it should've had a calming effect on me. It was quite the opposite. I felt so overwhelmed and intimidated, mainly because I worried about leaving out (and forgetting) important information, and then being judged by the students. I guess that is what makes us all human.

I couldn't have been more wrong! The students were actually going through the same stress loaded, roller-coaster emotions and fear prior to the training. They also felt intimidated about being trained (who knew?). I wish I knew then what I know now. Teaching others is no joke, but by the same token it can be fun and not intimidating like many of you may think.
Here are a few tips to make your next training session less intimidating:
Smile – not a fake smile, but from the heart. People will see your smile in your eyes and will return the favour.
Make students feel comfortable – this is all about the 'safe space' in the classroom (or tent J) and will encourage collaboration and participation.
Be well prepared (on the subject matter and on questions which you may not be able to answer (this contributes greatly towards your credibility).
Watch out for my next blog post about the impact of training (or the lack thereof) in the workplace!