While most people spend days, or even weeks, planning for this event, there is one person who prepares months in advance; 12 months to be exact. This person is a true global supply chain manager, and some could even say the very best!

Producing toys for 2.5 billion children across the globe, travelling 5.1 billion kilometres and delivering these within 32 hours is no easy feat by any stretch of the imagination. Santa Claus (founder and CEO of Santa Claus Toy Inc.) guarantees an overnight delivery of the best toys with the highest quality for all the boys' and girls' who have made it onto the nice list!
So how does Santa do it? Let's take a quick look at Santa's supply chain: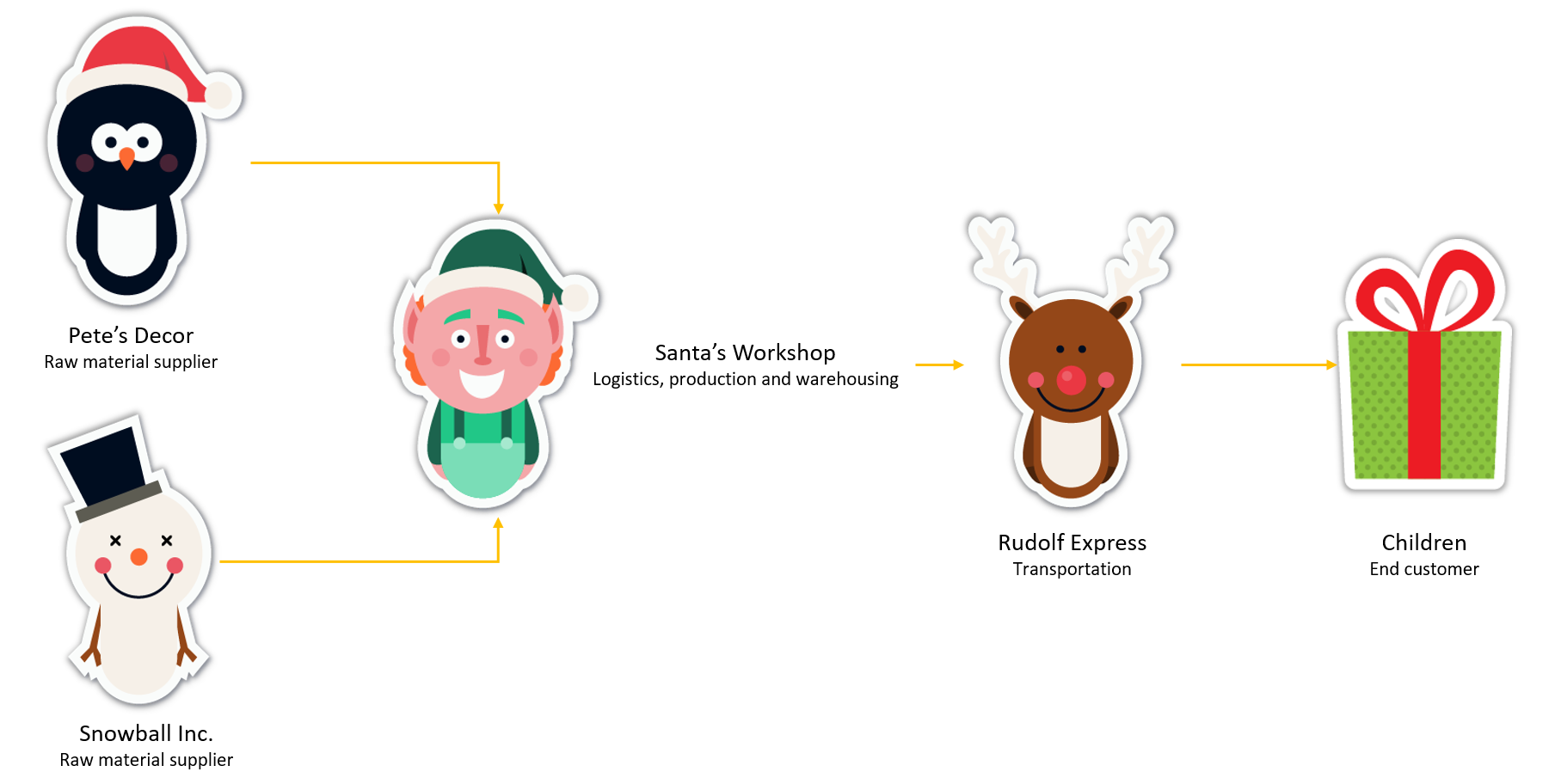 As simple as this diagram looks, once put into action, I can assure you it is not. A lot of planning is done prior to its execution. The supply chain consists of the following nodes/roles:
Pete's Décor – Raw material supplier
Snowball Inc. – Raw material supplier
Santa's Workshop – Logistics, production and warehousing
Rudolf Express – Transportation
Children - End customer
Santa – Global supply chain manager
So how are these toys made?
With the input of two reliable suppliers, everything happens at Santa's Workshop in the North Pole. The packaging is supplied by Pete's Décor and the raw material products are supplied by Snowball Inc. The elves in Santa's Workshop receive these materials and convert them into different toys through their various production processes. Upon completion, these toys are moved and stored in the warehouse awaiting Christmas Eve. Rudolf Express, which is comprised of the 8 best reindeer in the North Pole and a sturdy sleigh, is the team dedicated to delivering the presents on time and in full with no damages.
Okay, so where does Santa fit in? Well, through all these processes Santa plays an active role in managing this entire supply chain by ensuring that everything runs according to plan, as well as to direct and manage his fleet during execution.
So why is his supply chain the best in the world? Easy. Purely because it:
is customer-centric;
has a stable, dedicated workforce;
offers a free door-to-chimney guaranteed overnight delivery;
has a 100% perfect order fulfilment rating;
operates a world-class ERP (Elf Resource Planning) system;
has exceptionally high customer satisfaction; and
has unparalleled demand planning strategies and systems i.e. LDMRP (Letter Driven Materials Requirements Planning).
Santa's supply chain stands to this day unrivalled, and having stood the test of time; wouldn't you agree?